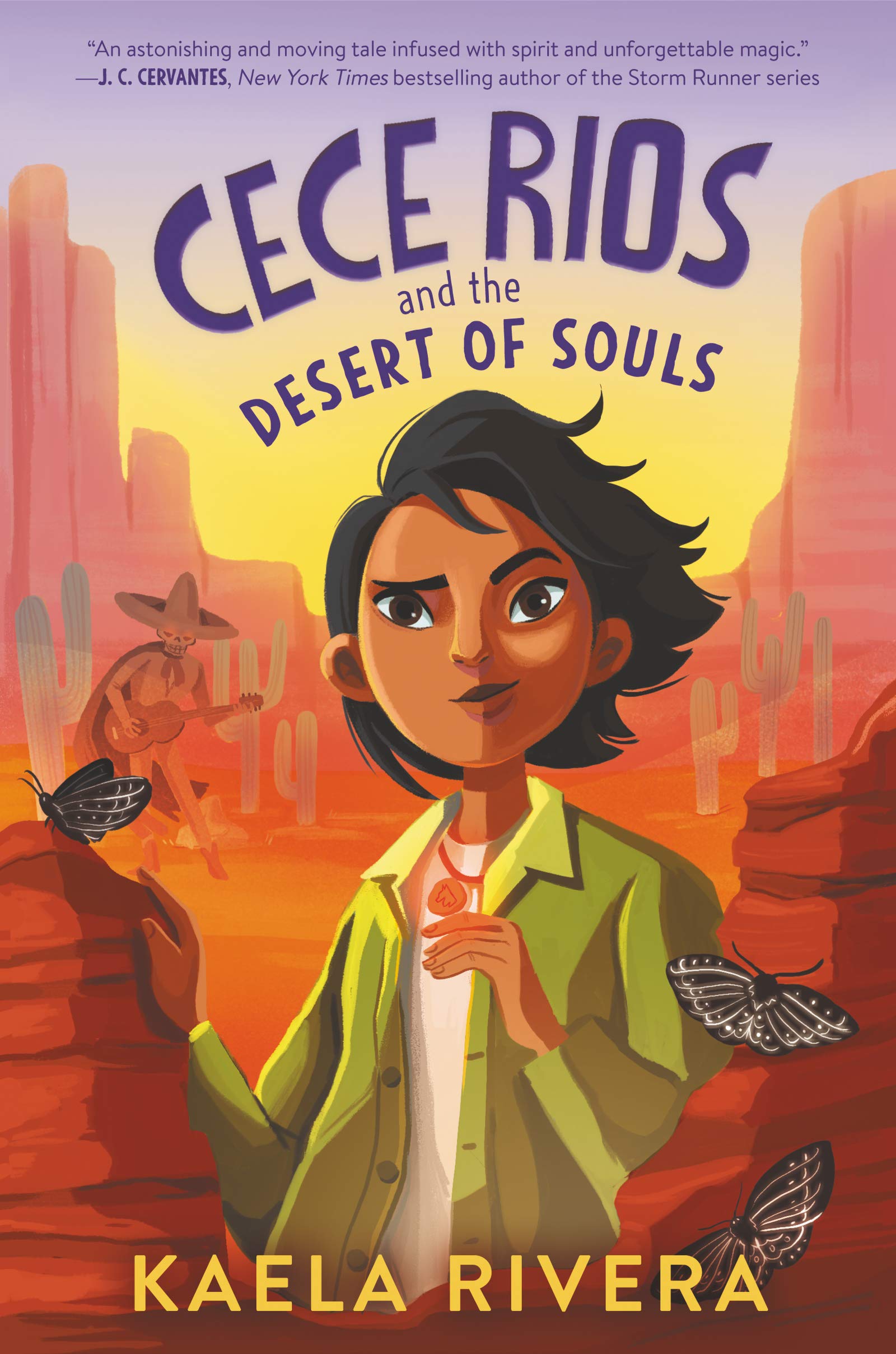 Level:
Middle Grade
Recommended Age:
9-14
Genres:
Adventure
Tags:
Competition, Crime, Disguise, Diversity, Family, Music, Mythology, Sisters, War
Mature Content:
- Mild violence: Physical attacks and a kidnapping
- Mild language: Threats, insults, brief descriptions of domestic abuse
Cecelia Rios has always lived in Tierra del Sol, and continually been told that the criaturas who haunt the desert outside of her home are dangerous. Unfortunately Cece doesn't quite have the same effect on the criaturas as her fiery friends and family, who can scare away the dark creatures with a look. When Cece's bad luck results in her sister getting kidnapped by El Sombreron, Cece must find a way to rescue her; but the only way into the criaturas home is by winning the bruja fights and working with the very creatures she's supposed to shun. Family comes first, but can Cece turn her back on everything her family stands for in order to save her sister?
Review:
This is such a fresh and fun take on Mexican mythology and lore, and I love how it's written at the middle grade level. The target audience is at an impressionable age where you either learn to love reading or see it as a chore, and Cece is a wonderful navigator to show everyone the importance of finding adventure in unexpected ways. As an adult, I also loved this story and saw so many important life lessons for people of all ages. One of the biggest aspects of Cece's world is the deep-rooted prejudice in her hometown of Tierra del Sol. People are so blinded by their history and the past hurts that have been past down through each generation. Cece is the only one who dares question their version of events and wonder if perhaps there's another way of life where everyone is cared for. She feels ostracized from the community because of her unwillingness to conform, which is shown very visually in the fire versus water comparison. The people of Tierra del Sol embody fire because of the fire god, but Cece has been blessed (or cursed) by Tzitzimitl with water.
Cece does things her own way, and her friendship with Coyote and Lion shows her determination to figure out life for herself before making judgments. I also loved her interactions with her family, they were so well thought out and believable. It would be so cool to read about Juana's experiences during Cece's journey, maybe that could be a novella while we wait to hear about a sequel so Cece can continue her adventures.
Cece may feel cursed for not having a fiery soul, but the greatest resource in a desert isn't fire: it's water.
If you would like to purchase this book, we would appreciate it if you use our referral link or any of the other links on the page. Thank you for supporting FableFinder!