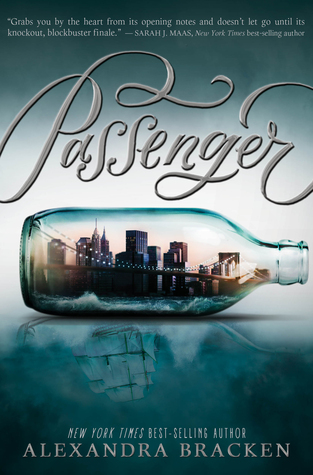 Level:
Teen
Recommended Age:
14+
Genres:
Paranormal, Adventure, Romance
Tags:
Time Travel, Music, Diversity
Mature Content:
- Moderate violence: physical attacks, kidnapping, shooting scenes.
- Mild romance: kissing scenes.
- Moderate language: some swearing, insults, sexism and racism.
Etta has spent her whole life focusing on playing her violin. It's always just been her, her mom, and her violin teacher. Her life has been nothing but music and training, until one fateful performance when she's plucked from her timeline by a cranky cousin she's never met. Finding herself among pirates on a ship in the 1700s, Etta begins her journey to a family she didn't know existed, fulfilling a legacy that her mother started years (or centuries, depending on your perspective) ago. With help from a savvy pirate, Nicholas, Etta manages to jump between timelines in search of a powerful artifact that could lead her home, or erase her timeline altogether.
Review:
Etta is strong and smart, she works hard and is willing to sacrifice everything. She's only 17, but she's had the drive to push herself her whole life to become better, which makes her really mature and independent. Etta knows who she is and what she believes in. She may not have the best relationship with her mom, but she's still going to fight for her and finish the legacy her mother started. She doesn't dwell on her weaknesses or lack of knowledge, just pushes through all the different time periods like a champ. I really appreciate how she doesn't obsess over her looks or body or any insecurities that she might have. The way she approaches failure and poor circumstances shows her lifelong discipline.
So when she gets kidnapped and lands in 1776, she's angry and confused but she also adapts. She learns how to cope, but she never gives up her personal beliefs and the way she sees people. Even with Sophia, her kidnapper and general stick in the mud, she pushes her to take charge of her life and stop taking orders from a family that's never going to care about her. She's the only one in her family who has been raised in the 21st century, and it shows in her determination to treat everyone equally, despite it being unusual in the 18th century.
She has some funny pirate moments, and a great relationship with Nicholas. She helps him see how time can change everything. She insists on being his equal, not knowing what that means to him. She is constantly surprising him and he is constantly trying to keep her alive. They have a great dynamic and work together equally to find the artifact. Their relationship is very trusting and mature, and not overly dramatic or cliché.
It's a fun journey across time that covers multiple time periods and locations all over the world. Etta is constantly being ordered to change to others' perception of her, but she knows who she is and she won't apologize for being different.
If you would like to purchase this book, we would appreciate it if you use our referral link or any of the other links on the page. Thank you for supporting FableFinder!