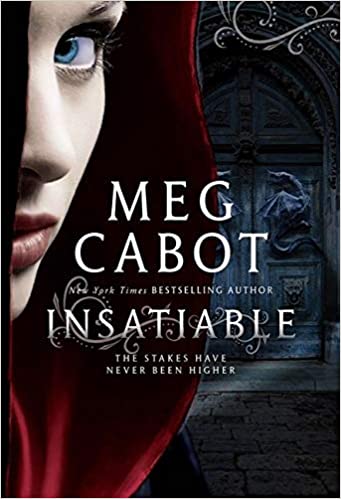 Level:
Mature
Recommended Age:
18+
Genres:
Romance, Fantasy
Tags:
Crime, Drama, Family, Mythology, Paranormal, Royalty, Vampires, War
Mature Content:
- Mature sexuality: Heavy makeout scenes and insinuations of sex.
- Moderate violence: Some physical violence and descriptions of death.
- Moderate language: Some swearing.
Meena Harper is sick of the vampire obsession taking television by a bloody storm, including the TV show she writes for: Insatiable. But fiction soon becomes reality when she falls for Lucien Antonescu, a vampire prince with his fair share of enemies. The two soon discover that Meena's psychic abilities can cause surprising side effects for anyone lucky enough to get their hands on her blood, and (as everyone knows) blood happens to be a favorite for vampires… especially ones already looking for ways to dethrone a prince.
Review:
Meg Cabot, the author of The Princess Diaries, knows how to spin a fun story. Her ability to cross genres and find fresh perspectives is why she can take tired tropes, such as an awkward teenager discovering she's a princess, and make them exciting again. In this book, she tackles vampires.
Meena is, by all appearances, an average woman trying to make it as a television writer in New York City. She's paying off her apartment to her ex-boyfriend, her brother is sleeping on her couch between jobs, and her best friend is massively pregnant with her first child. However, the reason her boyfriend dumped her (and the reason her social life is a mess in general) is because Meena can predict someone's death with a single glance.
Talk about a mood killer.
But when Meena inexplicably becomes involved with the vampire world's hottest bachelor, her psychic abilities take on a whole new meaning. This sizzling romance has plenty of action as vampire hunters threaten to destroy the sexiest boyfriend Meena has ever had. What the ancient society of vampire killers don't anticipate is this tiny woman in Lucien's thrall having her own agenda to play by. Meena is a television writer in New York City, and she is not to be trifled with.
Meena makes me laugh, especially when she's chewing out Alaric. He's such a suit, and she is having none of it. I also love her interactions with her best friend, whose pregnancy adds some tension on a more relatable level. Though Meena is psychic, she seems perfectly normal and human, especially compared to Lucien. Their relationship is fun and spicy and purely physical. Meena affects Lucien like no one ever has, which is impressive when you're centuries old.
This fast paced adult romance is perfect for fans of vampires, soap operas, and spunky characters. It's something I read when I need a pick-me-up and it never fails.
If you would like to purchase this book, we would appreciate it if you use our referral link or any of the other links on the page. Thank you for supporting FableFinder!