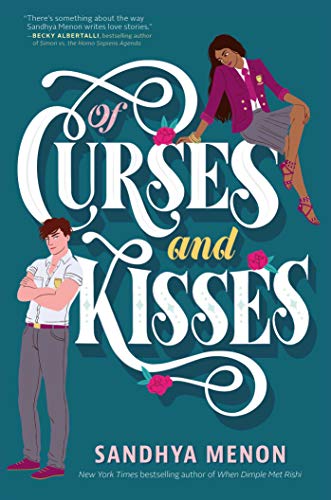 Level:
Teen
Recommended Age:
14+
Genres:
Romance
Tags:
Diversity, Fairy tale, British, Magic, Royalty, Sisters, Social media
Mature Content:
- Moderate language: Some swearing, including several F bombs, as well as threats and sexist comments.
- Mild sexuality: Brief kissing.
- Mild violence: Bullying, allusions to physical fights.
Jaya and Isha are princesses of India, but being a princess isn't easy in a technological world where everyone can watch your every move. Jaya would do anything to protect her family legacy, and her need to protect her baby sister knows no bounds. When a reporter goes after her sister's reputation, Jaya is convinced the Emersons are behind it. The Raos and Emersons have feuded for generations, and now that Jaya and Isha are at a new school with the Emerson heir, Jaya is determined to get the upper hand once and for all.
But Jaya doesn't expect the secrets Grey Emerson reveals about their families, and she certainly does not expect to feel such a connection with her sworn enemy. Both of them need to figure out what Isha has already mastered: that finding the courage to overcome family expectations and choose who you want to be is worth the risk.
Review:
This is such a great way to do a Beauty and the Beast modern retelling without many of the controversial aspects of the fairy tale (mainly just the Stockholm syndrome situation) that make it harder to do in a modern setting. Sandhya Menon found beautifully subtle ways to bring in aspects of this tale as old as time in a way that hasn't been done before. There are so many fairy tale retellings, but she does a great job of putting her own spin on it.
Jaya is an Indian princess who feels every bit of the weight and responsibility from her birthright. She's extremely aware of the public scrutiny that comes with being a royal, especially in a country that places limits on women, which is very apparent in Jaya's younger sister Isha. Unlike Jaya, Isha pushes boundaries and just wants to be herself and explore everything she has to offer, even if her skills aren't suited to her status. Jaya and Isha are so protective of each other, and though they disagree on what it takes to be a princess it's very clear that family is so important to them.
It's always fun to read about sisters, and their dedication to each other is a main force in driving the plot forward. They're such opposites, but they have a loving relationship that adds to the overall themes of love. Even though this is a romance, there is great emphasis on all different relationships and the friendships are just as fun and interesting as a castle full of enchanted furniture.
Grey is burdened by a lifetime of feeling the full weight of his family curse, to the point of treating his life like a ticking time bomb. He pushes everyone away, and it isn't until he meets Jaya that he starts to realize that maybe he should start living for himself instead of his ancestor's mistakes. His emotional struggle reflects Jaya's own emotional journey. They both progress significantly in their perspectives, and are a great example to young readers who are struggling to figure out what they want from life.
Both Jaya and Grey have given up on taking what they actually want from life because they only live for the purpose of their family. But they're able to teach each other to speak up for themselves in this sweet light hearted romance about the struggles of family expectations and finding the courage to accept the love you deserve.
If you would like to purchase this book, we would appreciate it if you use our referral link or any of the other links on the page. Thank you for supporting FableFinder!